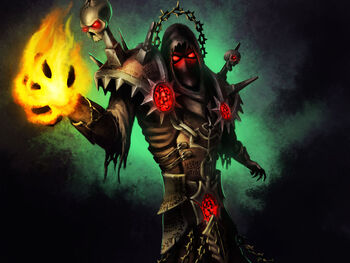 Warlocks are a class of mages that wield the corruptive Chaos Energy , able to curse sentient mortals, drain their powers and energy for that of their own and summon Hellspawns to assist them. Warlocks can only appear as males of any race and can somtimes be mistaken for a pyromancers as the Hellfire based spells appear like Fire based spells.
Appearance
Edit
Warlock use Chaos Energy as there bread and butter for magic.
Warlock Characters
Edit
References
Edit
Ad blocker interference detected!
Wikia is a free-to-use site that makes money from advertising. We have a modified experience for viewers using ad blockers

Wikia is not accessible if you've made further modifications. Remove the custom ad blocker rule(s) and the page will load as expected.