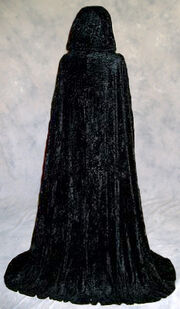 The 
Shroud of Night
is a enchanted cloak that allows the wearer to remain hidden from thoses seeking. The Shroud is said to be woven from a stand of
Theda's
black robes. It is unknown who first created the shroud but as most will know it eventually made its way to
Jorn Herr
as a gift from his mentor
Mardrake Transfer
. Jorn used the shroud to remain hidden within the ruins of
Horroville
 for over 14 years and as a way of safe passage through
Lana Falls
,
Kata's Descent
and
Jewel Desert
. The Shroud as of now has been kept under display within the tower of norden for jorn's amusement but it may not remain their forever.
The Shroud of Night is inspired by the Cloak of Invisibility from Harry Potter
Ad blocker interference detected!
Wikia is a free-to-use site that makes money from advertising. We have a modified experience for viewers using ad blockers

Wikia is not accessible if you've made further modifications. Remove the custom ad blocker rule(s) and the page will load as expected.