This article, Battle of Darktides, is still being created by KingKatanova, he apologizes for the inconvenience.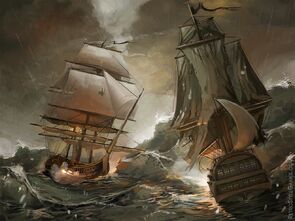 The Battle of Darktides was a naval battle fought between the crew of the Black Sword and the crew of the the Droganien. Contested by their captains Maya Darksea and Lend Daggard over the Kraken's Bane.
References
Edit
Ad blocker interference detected!
Wikia is a free-to-use site that makes money from advertising. We have a modified experience for viewers using ad blockers

Wikia is not accessible if you've made further modifications. Remove the custom ad blocker rule(s) and the page will load as expected.