Bal'goc


Vital statistics
Species/Race
{{{Species/Race}}}
Affiliation
Chaos Horde
Origin
{{{Origin}}}
Date of Birth - Death
Unknown (Presumed around 4500ER)
Relations
{{{Relations}}}
Aliases
Balrathia Govven, Agent of Xecien
Class
Seducer
Nature
Lawful Evil
Bal'goc
 also known as his mortal name of
Balrathia Govven 
is a
Hellspawn
Seducer
commander who after the lose of the
Chaos Horde
during the
Chaos War
was left stranded on
Terfall
. However cunning he was he took on the appearance of a Mysterious
Human
Wizard known as Balrathia Govven and travelled the length of the Planet looking for a way to reopen the portals to aftermath once again.
(To be contiuned)
Personaility
Edit
(To be contiuned)
Appearance
Edit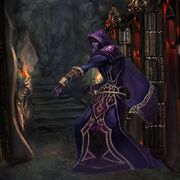 Bal'goc whilst within his Hellspawn form appears like a male verison of a Seducer, which differs with more masculine physic, larger wings and larger horns on their heads.
Bal'gocs mortal appearance depicts him as a gray haired Human mage addorned in purple embrodded garments, his eyes are deep brown and his physic is scranny. He is crocked and relies on a fake staff as a walking stick.
Equipment
Edit
(To be contiuned
References
Edit
Ad blocker interference detected!
Wikia is a free-to-use site that makes money from advertising. We have a modified experience for viewers using ad blockers

Wikia is not accessible if you've made further modifications. Remove the custom ad blocker rule(s) and the page will load as expected.